Breast Augmentation With Sydney Plastic Surgeon Dr Ellis Choy
Can breast augmentation surgery really help me? Does breast surgery work for everyone?
Women consistently choose breast augmentation as a plastic or cosmetic surgery priority because of the procedure's outstanding and long-lasting results. Breast augmentation or enlargement is most commonly performed on women with smaller (A or B cup) breasts, although it is also helpful in restoring breasts that have reduced in size following pregnancy or after breastfeeding. Also, many women notice their breasts losing volume or changing shape over time as a natural result of ageing, and they desire a more voluptuous and symmetrical breast appearance resembling their younger selves. Breast augmentation can help all of these women enjoy the fuller and more youthful looking breasts they once had before these changes occurred, and the great satisfaction that comes with looking vibrant and expressing your femininity fully is priceless!
What To Expect When You Have You Breast Augmentation Consultation With Dr Choy
I'm afraid the doctor won't listen to my concerns or won't understand how I want my body to look. This is really important to me because I will have to live with the results for a very long time. I want the doctor to hear what I'm saying and respect my wishes.
Satisfactory breast augmentation outcomes depend on a healthy and genuine working relationship between the client and their surgeon. You have many factors to consider, including your personal goals, the type of implants to be used, the appropriate placement of the implants and getting sufficient care during recovery. Considering all these aspects is crucial to creating an effective surgery plan that will get you the results you want and deserve. A breast augmentation procedure with Dr Ellis Choy is a caring and personal experience that will set your mind at ease from the very beginning, enabling you to take the next step of your journey with confidence and plan your goals using all the benefit of his expertise.
Your in-person consultation is an ideal time to explore different implant sizes and styles, and you can even try on a surgical bra fitted with different implants to give you a better idea of your ideal body shape aspirations. As you discuss your surgery with Dr Choy, you will learn that he uses only the most advanced equipment and refined surgical techniques, resulting in optimum patient outcomes and shorter recovery times. During your consultation, you can expect to discuss:
The condition of your breasts, including the quality of existing breast tissue
Where the incision marks will be hidden
The positioning of your implants (above or below the chest muscles)
Whether a breast lift (mastopexy) may also be necessary
You can discuss anything which might concern you during your consultation with Dr Choy without self-consciousness because if it is important to you, it is also important to the surgeon; this includes anything in your medical history that could impact your results or any apprehensions you may have about your surgery or results. In fact, the more open you are during this process, the better the results you can expect to receive after surgery. This is why Dr Choy so strongly emphasises the importance of having a thorough and unguarded consultation.
What To Expect When Your Breast Augmentation Surgery Day Arrives
I know that breast surgery is common, but I also know that it has some risks. How worried should I be? I really want to take care of these problems with my breasts because I want to feel good again. I just want to be sure that surgery is really the best way.
Breast augmentation surgery is the most frequently performed cosmetic surgery, and the overwhelming majority of women who have the surgery do not experience problems during or after their surgery. Your odds of success increase even more if you select a qualified surgeon with significant experience in breast augmentation surgeries like Dr Choy. Not only will you have a safe surgery, but you will also get the results you want based on your in-depth consultation. Breast augmentation surgeries are usually performed under general anesthesia and take about an hour to complete unless the operation involves more invasive or complex procedures. (You will have already covered these possibilities during your consultation.) Generally, an incision is first made under your existing breast, forming a pocket. Your implant will then be inserted and positioned to create the desired symmetrical and aesthetic effect.
Prior to completing the surgery, Dr Choy will examine your new look thoroughly to ensure a natural appearance whether you are sitting, lying down or standing up. A local anaesthetic may be administered to assist during the operation and with post-operative pain relief. Bandages and dressings are applied to restrict unnecessary movement during the healing phase.
Depending on your individual requirements, you may be allowed to return home on the same day as your surgery, although in some cases, an overnight stay in-hospital for rest and recovery is advised. After being given the "all-clear" by Dr Choy, you will be allowed to return home. You can remain confident that, throughout the surgical process, Dr Choy's helpful staff will be available to assist you with any follow-up information or advice you may require.
Which types of breast implants are available?
It's really important to me that my appearance reflects who I am. I don't want to look like everyone else who's had breast surgery. How can I be sure I will get the look that feels like me?
There are two main types of breast implants available to plastic surgery patients in Australia which give women important choices about how their breasts will look and feel after their surgery. Each option also comes in different sizes, and one in different shapes, to provide women an even greater opportunity to personalise their results. Let's explore these two different types of breast implants now so you can begin thinking about the kinds of results you want post-surgery.
Saline Implants
A saline implant is comprised of a lightweight shell filled with saline water — water with a high salt content which has been sterilised. For many years, saline implants were the primary type of implant for breast augmentation in Australia. However, in recent years, they have been overtaken in popularity by their silicone counterparts.
Saline implants tend to lack the realism and the naturalness of silicone implants, although high-quality results can still be achieved. In the event of rupturing or damage to the implant, the saline water is simply absorbed into the breast tissue with no potential harm to the patient.
Silicone Implants
The silicone implant is a more recent development in the world of breast augmentation. These implants have been championed over their saline predecessors thanks to the more natural and realistic look they achieve for the breasts. Dr Choy and his team strongly favour silicone implants over saline versions.
The silicone material in the shell poses minimal risk of harm to the patient, like saline water, and the risk of rupture of the shell is also very low. In the event of rupturing or damage, the silicone may leak out into the scar tissue immediately around the implant, but this is extremely rare. Most patients experience no problems with their silicone breast implants.
What is the dual-plane method of breast augmentation, and how can it help improve my final look after surgery? Am I a candidate for a dual-plane surgery?
The dual-plane method of breast augmentation is widely considered to be the most effective surgical technique in terms of both aesthetics and long-lasting results. For many years, the gold standard for breast augmentation has been to ensure that as much soft tissue is covering the breast implant as possible during the procedure. This is difficult to achieve using the single-plane method where the breast implant is covered by a uniform layer of soft tissue.
However, this became far more achievable with the introduction of the dual-plane method by Dr John B. Tebbets. This method positions the breast implant behind two planes of tissue and in front of the chest wall, in an area known as the dual-plane pocket. Covering the upper portion of the implant is a layer of breast muscle, breast tissue and skin, while the lower portion has only a layer of breast tissue and skin because the breast muscle has been repositioned.
This method creates a far more realistic and natural breast presentation. The dual-plane method has been shown to provide the best results and is the method favoured by Dr Choy. Most women can have a dual-plane breast augmentation, but the only way to determine this for certain is through a thorough, in-personal consultation and examination by Dr Choy.
Breast Augmentation After-care and Recovery
I feel confident that Dr Choy will perform a safe surgery, but what happens when I get home and I'm on my own? How do I take care of myself and protect my results? Will the surgeon be there for me if I have questions or need help?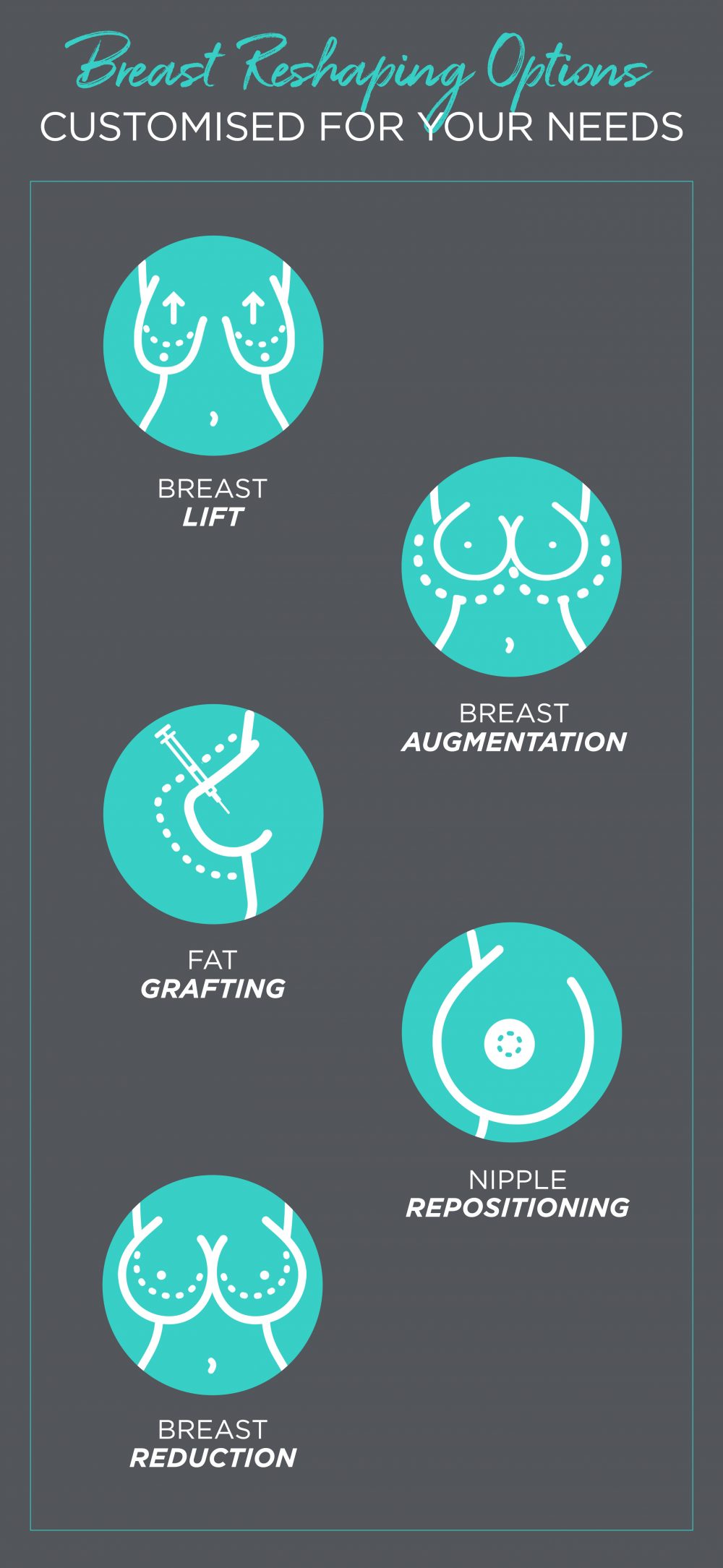 For Dr Choy, patient care doesn't end when you leave the operating theatre. First, Dr Choy will amply prepare you for your recovery before you have your surgery, and he will be there for you afterward to answer any questions and perform routine follow-ups to ensure you are recovering as expected. You will also be able to reach Dr Choy in the very unlikely event that something unexpected occurs.
Here's what you will experience immediately after surgery. There will be some initial discomfort and swelling after your operation. Your new breasts may also feel abnormally firm at first but will return to a more natural state as recovery progresses. You will be advised regarding appropriate care for the surgical site during recovery, and dressings or healing tape can be applied when you return to Dr Choy for a progress check-up.
There will be a small, well-concealed scar under the breast. The appearance of the scar will steadily improve over time, fading to a similar colour as your natural skin tone. Any internal stitches will dissolve, and you will need to wear a surgical support bra for some time, according to your surgeon's instructions. You should resume work, exercise and regular activities at a slow and conscientious pace to avoid disrupting a full and satisfactory recovery. Strenuous activities and heavy lifting should be postponed for at least a month after surgery.
It is important to remember that, even at the end of this month-long period after surgery, your breast augmentation recovery is still ongoing. This means that while strenuous exercise, heavy lifting, and any activity that places excess strain on the body is now possible, you should approach this tentatively and with caution. To achieve optimal results – like those displayed in our breast augmentation before and after gallery – great care must be taken during recovery.
If you experience any pain at all, at any point during the augmentation recovery process, give Dr Choy and his team a call. He will advise you on how to manage the discomfort with pain medication or ask you to come in to determine the best course of action given your circumstances. Remember; your safety and comfort are of utmost importance!
Do breast implants last for a lifetime?
I've heard different things about the life expectancy of implants. Some say they last ten years while others say you can keep them as long as you don't have problems. And how long after my surgery should I start thinking about having my implants checked?
First of all, you know that by selecting an extremely qualified and experienced surgeon to perform your breast augmentation surgery that you have significantly lowered your risk for problems or side effects from surgery. Dr Choy's superlative training along with today's latest technology and well-manufactured implants, further reduce your risk of complications, such as capsular contracture, and the possibility of problems due to implant rupture.
However, even if you have a safe and problem-free surgery, you should not expect your implants to last forever. For example, an unexpected trauma or injury to the chest area could require you to have your implants replaced. Implant failure due to age is also a possibility; however, most implants can last safely in the body for well over 10 years without any reason for removal or replacement. If you are not experiencing any problems, even if you have had your implants for 10 years or more, you will likely not need to do anything, but it will always be the safest course of action to schedule a routine follow-up as a preventative measure around this time. Dr Choy is a proud member of the Australian Breast Device Registry and is committed to helping his patients in the years after their breast augmentation maintain their implant health.
Why Sydney-area Patients Trust Dr Choy for Their Breast Augmentation and Reshaping Procedures
I want a plastic surgeon who I can trust, someone who understands the best way to perform my surgery and, more importantly, someone who understands what this means to me and who will give me the results I want. Who can I visit in Sydney to have a safe surgery that will best express me?
Dr Ellis Choy combines top-flight credentials, innate talent and considered taste and brings these qualifications to bear during each client interaction at his Sydney area practice. These characteristics set Dr Choy apart from his colleagues and are the reasons his clients return to his practice for additional care when needed. His approachability, perceptiveness, empathy and sensitivity not only lead to exceptional outcomes but also long-lasting patient relationships.
Dr Choy was educated at the University of Sydney, Royal Prince Alfred Hospital and Royal Australasian College of Surgeons and has been accredited by the Royal Australasian College of Surgeons, the Australasian Society of Plastic Surgeons, the Australasian Society of Aesthetic Plastic Surgeons and the American Society of Plastic Surgeons. These credentials underscore Dr Choy's desire to hone his craft and deliver results which exceed his clients' expectations.
Clients in Sydney and surrounding areas who are concerned about the appearance of their breasts should schedule an appointment with Dr Choy immediately. They may call the doctor's offices on 02 8962 9388 or book their consultation online if they prefer. Clients should not delay, however, as appointment slots fill quickly. Women should also not delay the transformational benefits that a breast implant surgery performed by Dr Choy can offer.
---
Patient Story
The decision to have breast enhancement is sometimes an easy one to make. "I decided to have breast augmentation because my breasts were uneven, making me extremely self-conscious. I wanted to improve my confidence and be happy with my femininity. I wanted to be able to wear a bra and bikini and actually fill it and flaunt it," a breast enhancement patient relates.
However, truly outstanding results don't simply happen on their own. Each woman will need to make several critical decisions to ensure her desired outcome. One of the most important decisions in this process is selecting her surgeon. Her doctor should have, at minimum, training and certification in breast enhancement surgery along with significant experience performing the procedure.
Women seeking breast enhancement surgery can make their selection process easier by having their first consultation with Dr. Ellis Choy in Sydney. Dr. Choy combines all of the above qualifications along with a genuine concern for each of his patients, insights into which techniques will produce the best outcome and a desire to bring his patients desired look to life
The information about breast augmentation was reviewed by Dr. Ellis Choy. If you have any questions, please don't hesitate to contact us here.
Natural Look Information Sheet
Download and print out the Natural Look Information Sheet that includes a list of questions to ask Dr Choy during your appointment.