FACELIFT SURGERY WITH SYDNEY PLASTIC SURGEON DR ELLIS CHOY
Facial ageing affects our appearance in various ways. From skin laxity and loss of muscle tone to the degeneration of the various facial structures, time continues to manifest itself in the shape, grooves and fabrics of our skin.
Dr Ellis Choy sees concerns like these regularly. A facelift is a surgical rejuvenation procedure designed to address the facial features that diminish, sag or deflate with age.
Drawing on his artistry and skill, Dr Choy performs facelift surgery by surgically lifting and tightening the underlying facial structure to enhance your facial definition. Based on an individualised treatment plan, Dr Choy can create a more refreshed appearance that harmonises naturally with your age and stage of life. Book your in-person consultation in Sydney with Dr Choy today. He will address any questions and personal concerns you may have as you explore your options.
THE BENEFITS OF FACELIFT SURGERY
A youthful face is defined by smooth, taut skin that's free of wrinkles and has supportive fat in the right places. As we age, our skin loses elasticity, grows thinner and develops wrinkles caused by a combination of collagen depletion and muscle movement. Changes also occur below the skin surface. Our deeper soft tissues slacken and sag. We lose fat volume, which can lead to a sunken or gaunt appearance, and remaining fat pads can droop downward. Even our bone structure changes.
Facelift surgery addresses these changes. 
AM I A CANDIDATE FOR FACELIFT SURGERY?
As an invasive procedure, facelift surgery is ideal for those whose issues cannot be addressed with nonsurgical treatments. During a facelift, Dr Choy lifts and tightens sagging skin and repositions the underlying tissues to restore a more youthful expression and a rejuvenated overall appearance.
A facelift may be right for you if:
You have loose, drooping skin around your cheeks

You have heavy jowls

You have deep nasolabial folds

You have lost shape and definition in your lower face

You've accumulated fat below the chin (double chin)

You desire a longer lasting solution than injectables or a thread lift can provide
In addition to the concerns above, you should ideally meet the following criteria:
You're in good physical and emotional health

You do not smoke

You're prepared to follow Dr Choy's pre- and postoperative instructions

You have reasonable expectations for the results of your facelift
Contrary to the popular notion of facelift surgery, it is not only for senior patients. Factors like lifestyle, genetics or weight fluctuations can have a significant impact on skin elasticity and facial volume. Some people start to develop prominent wrinkles and lax skin in their 30s, and don't want to wait until a more advanced age for surgical intervention.
In your consultation, Dr Choy will discuss your concerns and help you decide whether a facelift is a suitable option for you. He will also help you select the appropriate types of facelift for you based on your anatomy, aesthetic goals and preferences regarding downtime and recovery.
WHAT'S INVOLVED IN A FACELIFT?
Your facelift journey will begin with an in-depth consultation at our office in Sydney, where Dr Choy will take the time to understand your reasons for treatment and your expectations for results. He will carefully analyse your unique facial anatomy, observing how age has affected your face and your primary areas of concern, to determine what he may be able to achieve with facelift surgery. Once he has identified the most realistic outcome and the most suitable surgical techniques, Dr Choy will walk you through the steps of the procedure to ensure you are comfortable and fully aware of what to expect during your journey.
A facelift focuses primarily on the lower third of the face. Though the procedure will vary for each patient, it generally involves lifting and tightening the structural tissue to restore a smoother facial contour. From sagging facial tissue to the deflation of fat, a facelift is designed to address the various components of facial ageing and combine their correction in a holistic and harmonious way. Taking a customised approach to treatment, Dr Choy will design a surgical plan tailored to your age, facial structure and cosmetic goals.
WHAT ARE THE DIFFERENT TYPES OF FACELIFT SURGERY?
Facelift surgery is individualised to the patient's needs. After assessing your concerns and discussing your goals, Dr Choy will tailor his techniques accordingly.
Standard Facelift
The standard facelift, also called the full facelift or traditional facelift, is a time-tested approach. This technique can fully address moderate to advanced ageing in the lower two-thirds of the face.
Incisions for the standard facelift are concealed within the hairline, starting near the temples and continuing around the front of the ear. This provides optimal access for the surgeon and yields the longest lasting results of the different facelift techniques. An additional incision may be placed under the chin.
Short-Scar Facelift
A short-scar facelift or mini facelift is a less invasive technique that focuses on the lower third of the face only. Depending on the case, this surgery may be performed using local anaesthesia with sedation or general anaesthesia.
As its name suggests, a short-scar facelift requires a shorter incision than a traditional facelift. The incision begins around the temporal hairline, extends down the front of the ear and ends around the earlobe. Scarring is less compared to the standard facelift.
Patients with a mild degree of jowling and sagging skin around the upper neck and jawline make the best candidates for the short-scar technique.
SMAS Facelift
The SMAS (superficial musculoaponeurotic system) layer of tissue sits deep within the face, between the muscles and subcutaneous fat. SMAS facelifting techniques target these deep tissues for impactful and lasting rejuvenation.
When performing a SMAS facelift, surgeons manipulate the skin and SMAS layers individually. This allows them to tighten and reposition the tissues in multiple directions and to a more significant degree than is possible with other techniques.
Because the SMAS approach tightens underlying tissues instead of the skin, many patients feel it provides natural-looking lift without the tell-tale "windswept" look of older facelift techniques.
MACS Facelift
The MACS (minimal access cranial suspension) lift is a short-scar facelift that can be performed under intravenous sedation.
The MACS facelift involves making a small incision along the front of the ear and weaving two threads into the tissues. When the threads are tightened, the cheeks and corners of the mouth are lifted, and the contours of the neck, chin and jawline are restored.
The facial tissues are not detached from the underlying muscles in a MACS facelift, which reduces risk and recovery time. The MACS lift is suitable for younger patients with better skin elasticity.
Deep Plane Facelift
The deep plane facelift lifts the face from underneath the SMAS, focusing on the underlying structural elements of the face rather than the skin. Many surgeons and patients feel this gives more durable and natural results, as well as a more favourable recovery.
In a deep plane facelift, the skin and muscle (SMAS) are moved together as one unit, and deep cheek fat pads and musculature are repositioned. Drooping tissues are lifted vertically rather than outward. This approach creates a smoother, but not excessively tight, appearance and helps restore volume in the midface area.
A deep plane facelift can be performed using an abbreviated incision behind the ear. This minimises visible scarring for patients who wear their hair cut short or styled in a ponytail.
WHAT SHOULD I EXPECT DURING RECOVERY?
A facelift is an invasive surgical procedure, so the recovery process is a crucial part of your journey. Expect facial swelling, minor to moderate bruising and a feeling of tightness for at least the first week after your surgery. The focus during this time should be rest and proper incision care. It's helpful to have assistance around the house, although you can do some moving around. Bruising and swelling usually reach their height around days three and four.
After approximately seven to ten days, a follow-up appointment will be scheduled so Dr Choy can remove your sutures and assess how your face is adapting to the new contour. You'll likely still have some bruising and swelling at this point. You may also experience some tingling, numbness or tightness in the surgical area. These are common occurrences after a facelift and should not cause alarm.
It may take up to two weeks for the swelling to subside. After this point, you will be able to see the effects of your procedure more clearly. This is when many patients start to feel like themselves again and return to work and social activities. You may also resume light activities like walking for exercise.
After the one-month postoperative mark, you should largely be back to your normal routine. It can take up to one year for very minor swelling, tightness and numbness to subside, but these lingering effects typically are only noticeable to you.
Dr Choy believes that patient education and preparation is vital to the patient journey; he will ensure you are adequately prepared for what to expect and how to care for the area during recovery. Following Dr Choy's postoperative care instructions will make a big difference in your recovery experience and the results of your facelift.
FACELIFT RESULTS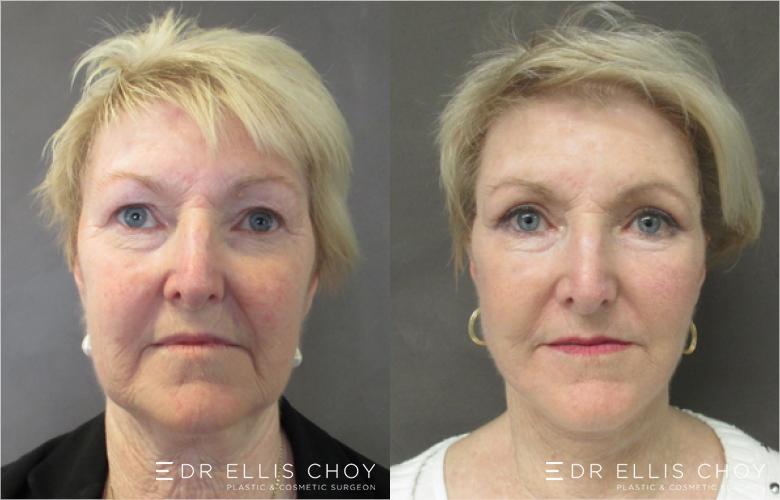 Click here to view our facelift before and after photos
Facelift surgery offers the longest-lasting benefits of any facial rejuvenation technique. Your improvements can last a decade or more, especially if you take good care of your skin with a healthy diet, no smoking and diligent sun protection. A good maintenance routine can help ensure you enjoy your results for as long as possible.
WHAT IS THE COST OF FACELIFT SURGERY IN SYDNEY, AUSTRALIA?
A number of factors determine how much your facelift surgery costs. These include:
Surgeon's fee

Anaesthetist's fee

Surgeon's assistant's fee

Hospital fees

Medications

Post-surgical supplies
The cost of a facelift is also influenced by the complexity of the procedure, the location of the clinic and the experience of the surgeon. Additional procedures add to the cost of your surgery. 
Neither Medicare nor private health insurance covers the costs of elective cosmetic surgeries. Please keep this in mind as you plan.
In Sydney, the cost of facelift surgery typically starts at around $15,000 to $20,000 for a standard facelift. Complete facial rejuvenation that combines multiple procedures can reach up to $30,000 to $40,000. Remember, these numbers are generic ranges. A face-to-face consultation with Dr Choy is a must to find out what approach is needed for your facelift surgery and what it will cost.
*This information about facelift surgery was reviewed by Dr. Ellis Choy. If you have any questions, please don't hesitate to contact us here.
Natural Look Treatment App.
Want to learn more about the Natural Look Treatment? Please contact us with your name and telephone number to receive a special Natural Look App with our compliments.
Making an Informed Decision

Undergoing plastic surgery is a significant decision that should be made only after careful consideration of all aspects involved, including the potential risks and complications.

General Risks and Complications

There are general risks and complications that apply to most plastic surgery procedures. These are discussed in detail on our Risks and Complications page.

Specific Risks and Complications

In addition to those that apply generally to plastic surgery, each individual procedure comes with its own specific risks and complications. For facelift surgery, these include: 

Noticeable scarring
Overly tightened or pulled appearance
Temporary or permanent facial weakness
Temporary or permanent changes in skin sensation
Hair loss at the incision sites

Next Steps

Request a consultation with Dr Choy for a detailed discussion of these considerations. Dr Choy will conduct a thorough risk assessment based on your individual factors and outline the measures that can be taken to minimise these risks. He and his team are here to support your decision-making process, providing all the information you need to make well-informed choices about your care.