Posted: Wednesday November 23, 2016
Categories:
Though breast augmentation remains the most common cosmetic procedure performed on patients, statistics have shown that breast lift surgeries have grown in popularity by 70% over the past decade and a half.
Breast lift and breast augmentation surgery can be combined to create a more youthful and voluptuous appearance, but combining the procedures isn't appropriate or even necessary in all situations. Breast lifts achieve different goals than breast augmentation and it's important to understand the differences in order to decide which procedure is right for you.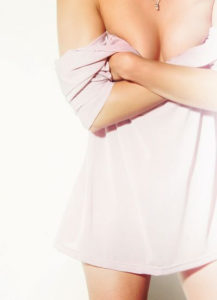 A breast lift, or mastopexy, is a surgical procedure that raises the breasts to give them a more youthful appearance. During the procedure excess skin is removed to tighten, reshape, and support the tissues.
The size of the areola can be diminished during the procedure as well. A breast lift won't add volume to the breasts, but it can give the breasts a more perky appearance.
What is breast augmentation?
Breast augmentation can be achieved by using either breast implants or a procedure known as fat transfer. There are a variety of different implant options available including both saline and silicone products.
Fat transfer, on the other hand, makes use of the patient's own fat tissues in other areas of the body to increase the volume of the breasts.
Choosing the breast enhancement option that's best for YOU
Breast augmentation can't fix the problem of drooping breasts. And a breast lift won't be able to increase the size of the breasts or create more roundness in the upper portion of the breasts. If your breasts need to be lifted, breast augmentation surgery can in fact exaggerate the problem. On the other hand, if you breast tissues are perky and well-supported, a breast lift won't create dramatic change. To add volume to perky breasts, implants or fat transfer for breast augmentation would be your best choice.
Breast lift surgery creates more scarring than breast augmentation, but it may be necessary if the nipple placement is likely to be awkward following an augmentation. Sometimes a breast lift is necessary to give the breast a more natural-looking appearance following an augmentation procedure.
In some cases, a breast lift may be performed in conjunction with a breast augmentation to create more lift while also adding volume to the tissues – one of the most popular breast procedures here at Zilver Lining.
In other cases, these two procedures may need to be performed on separate occasions. Dr Choy will help you make the right decision depending on your personal circumstances.
Deciding on your own if breast lift surgery or breast augmentation is right for you can be a challenge. Book an appointment for a consultation with Dr. Choy to learn more about your breast enhancement options and how the breast lift and breast augmentation procedures can create a more vibrant appearance and life-changing results.
---
Categories:
---